Regular price
Sale price
$15.00 USD
Unit price
per
Sale
Sold out
Low stock: 6 left
This Pi Zero case is  stackable, modular, extensible and hackable ! It fits both the Pi Zero and the Pi Zero W.
The enclosure can accommodate two Raspberry Pi Zeros (or up to 4 with the ProtoStax Cluster Kit for Raspberry Pi Zero ) - create your own 2 or 4 node cluster! It even has room to squeeze in a tiny/mini sized breadboard! 
The case has an internal clearance of over 1.2 inches, which gives you ample room to install a HAT/pHAT/Bonnet of your choice! Or stack two more Pi Zeroes above, instead of pPHATs/Bonnets to create a 4 node cluster!
Extension kits and add-ons are available to add functionality to your enclosure - add a fan (or two), switches, Raspberry Pi HQ Camera (or Pi Camera), Tripod mount, and more! Check out our extension kits and add-ons!
Features

Fits both the Pi Zero and the Pi Zero W.
Fits 2 Pi Zeros - create your own two-node cluster!
Internal clearance of over 1.2 inches, which gives you ample room for a HAT/pHAT/Bonnet
Enough room inside to fit a tiny/mini-sized breadboard
Made from high quality cast acrylic
Clear acrylic provides a beautiful finish with a modern visual design with full view of your electronics
Pre-drilled and threaded mounting holes in the base plate allow you to directly screw the board in without needing additional nuts, making it very easy and elegant for you to use. A thoughtful feature that you will surely appreciate if you have larger hands and dealing with tiny M2.5 nuts!  
Acrylic risers raise your board off the base plate for improved airflow and firm level mounting
Metal standoffs and screws provide solid and durable support 
Rubber Feet protect your table surface while providing maximum airflow by elevating the enclosure
Cutouts leave all ports accessible
Twist away cutout cover for access to GPIO ports
Cable Management: Easily accessible cable management cutouts in the side walls allow you to smoothly insert your cables and access wiring to external systems. In the Open Configuration, the Wall slots on the top and bottom plates (where the side walls usually insert into) can also be used for cable management for even more accessibility and organization.
You can mix, match, customize, and expand your project enclosure because ProtoStax enclosures are modular and stackable and work with each other 
Extension kits and add-ons add functionality to your enclosure - add a fan (or two), switches, Raspberry Pi HQ Camera, Tripod mount and more!

List of Compatible Devices


Technical Details
4.84 in length x 3.24 in width x 1.4665 in height (1.8 in height including rubber feet) (122.94 mm x 82.3mm x 37.25 mm (45.72mm including rubber feet))

Usable space inside: 4 in length x 2.4 in width x 1.2165 in height (101.6mm x 60.96mm x 30.9mm)
Visualize in your space using AR!
Share
View full details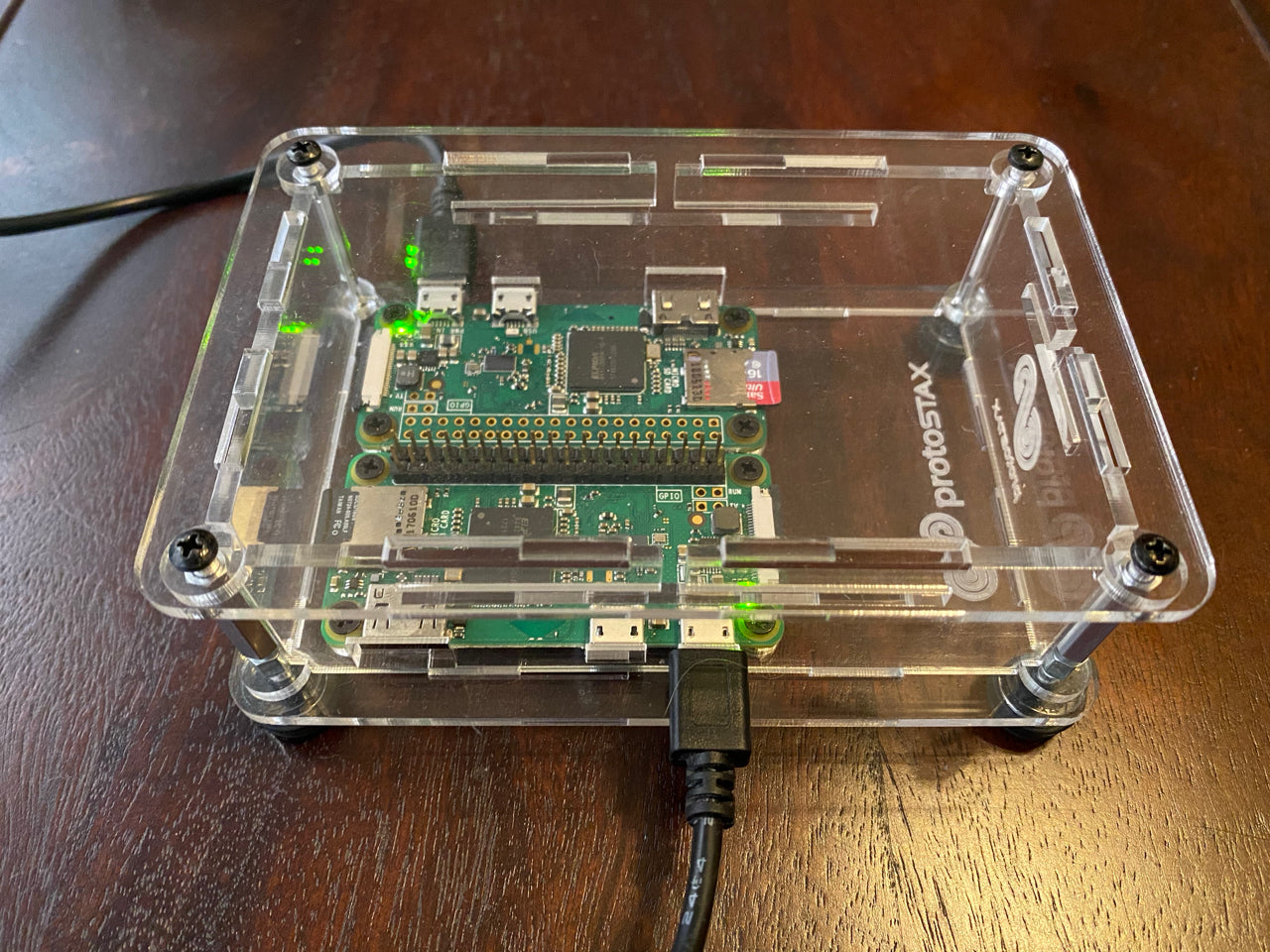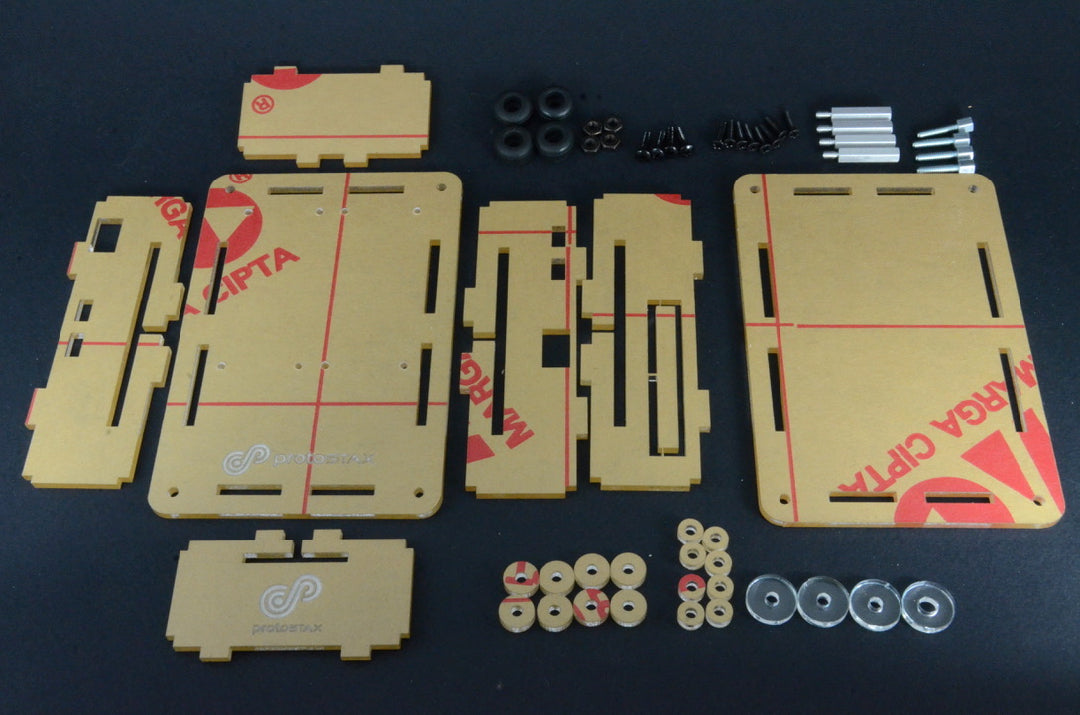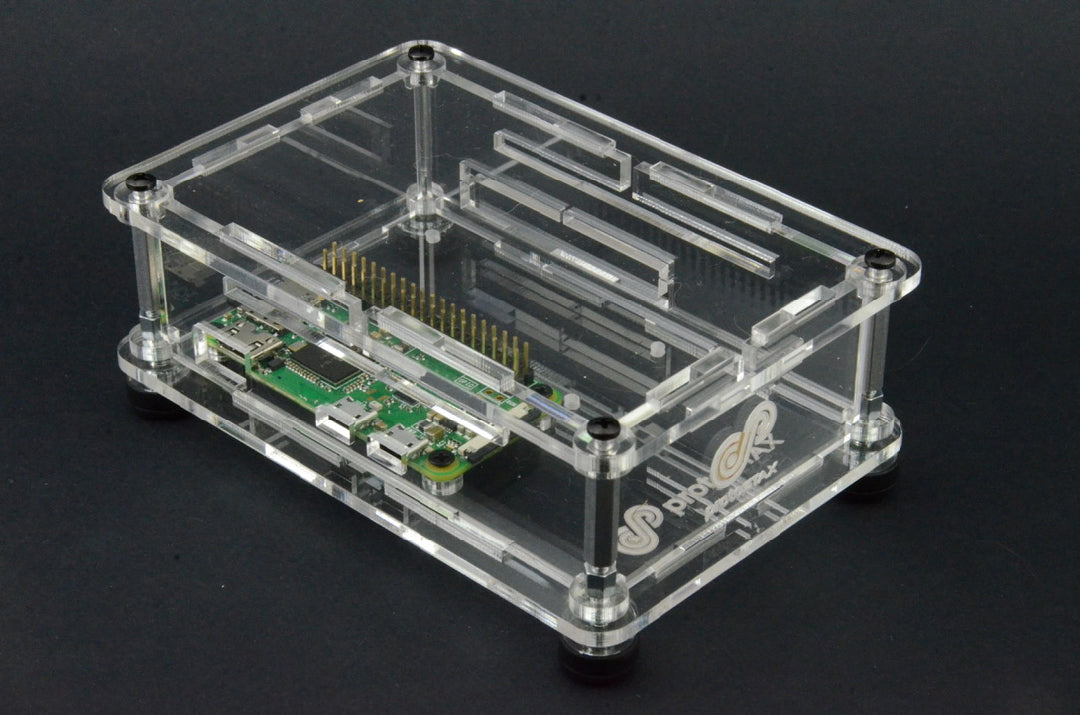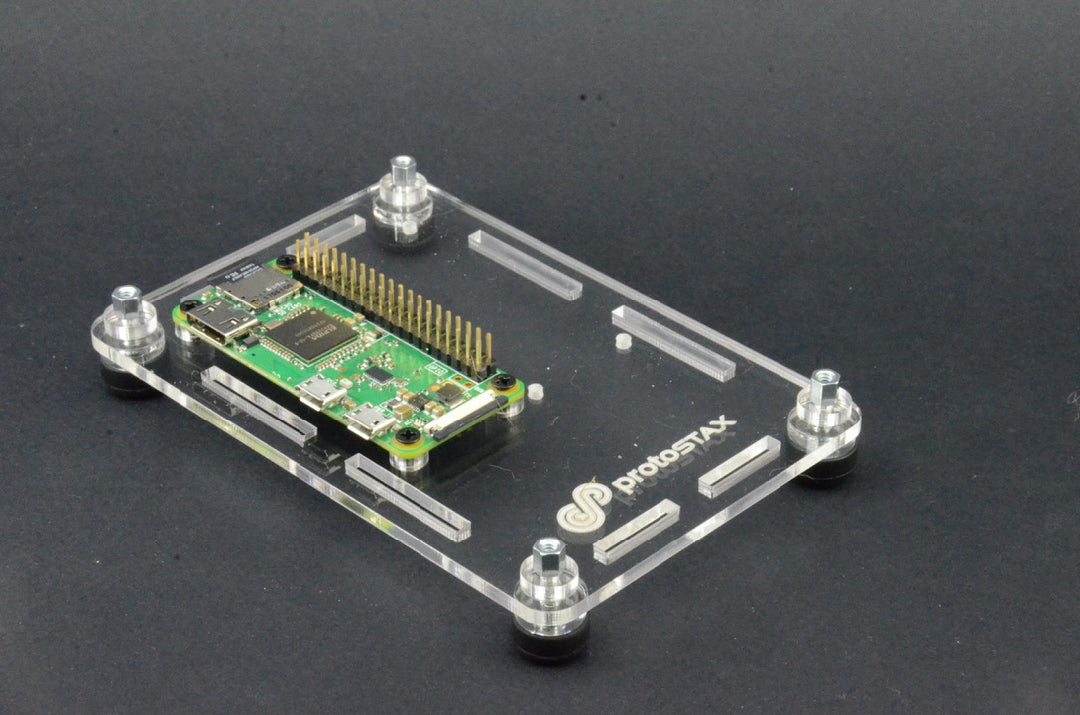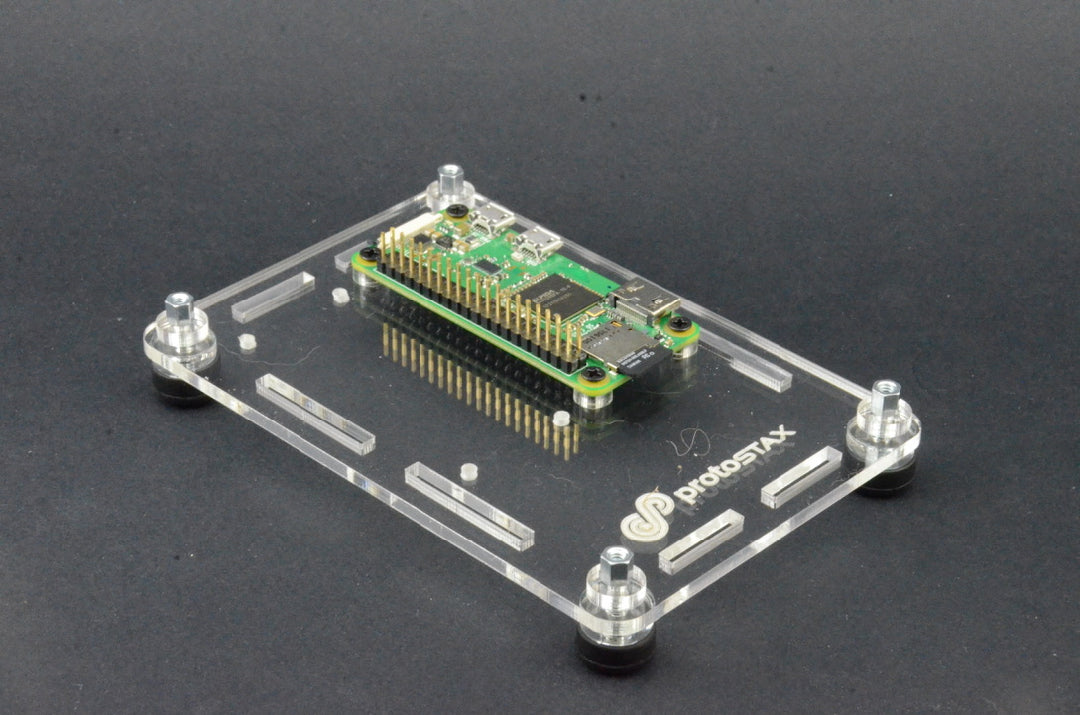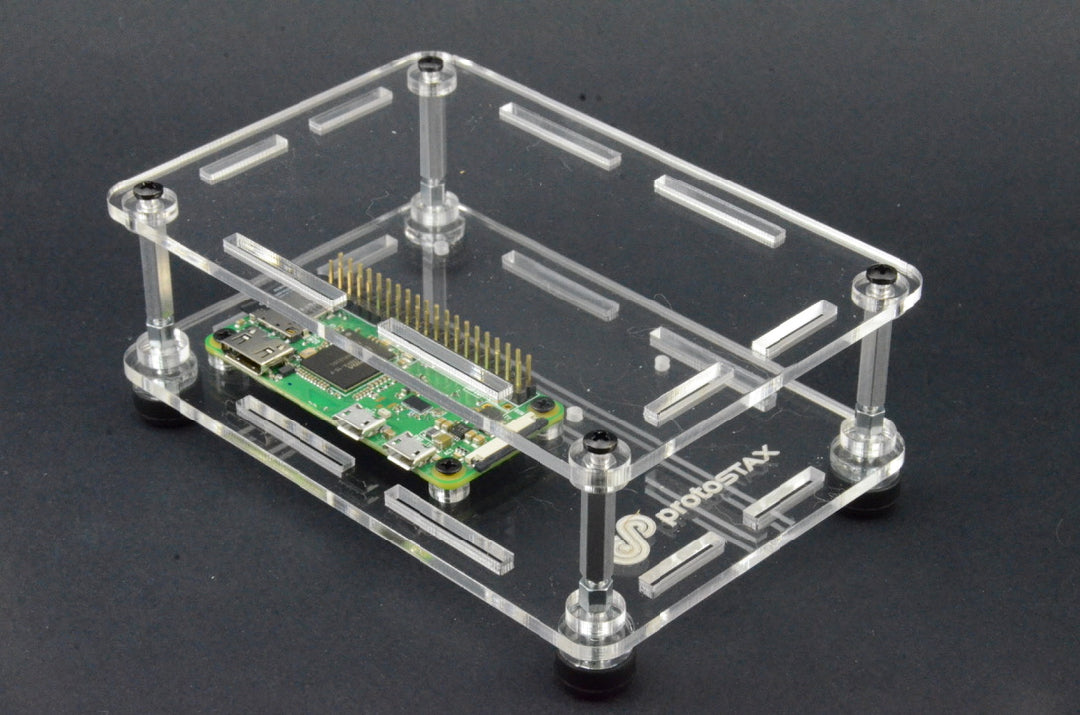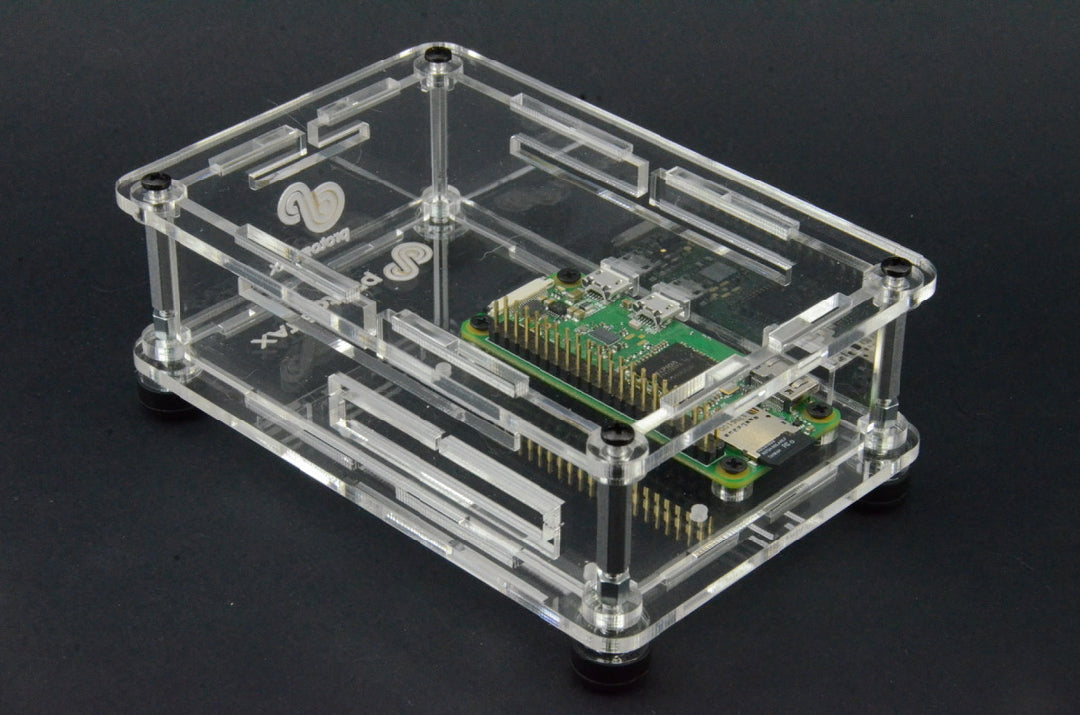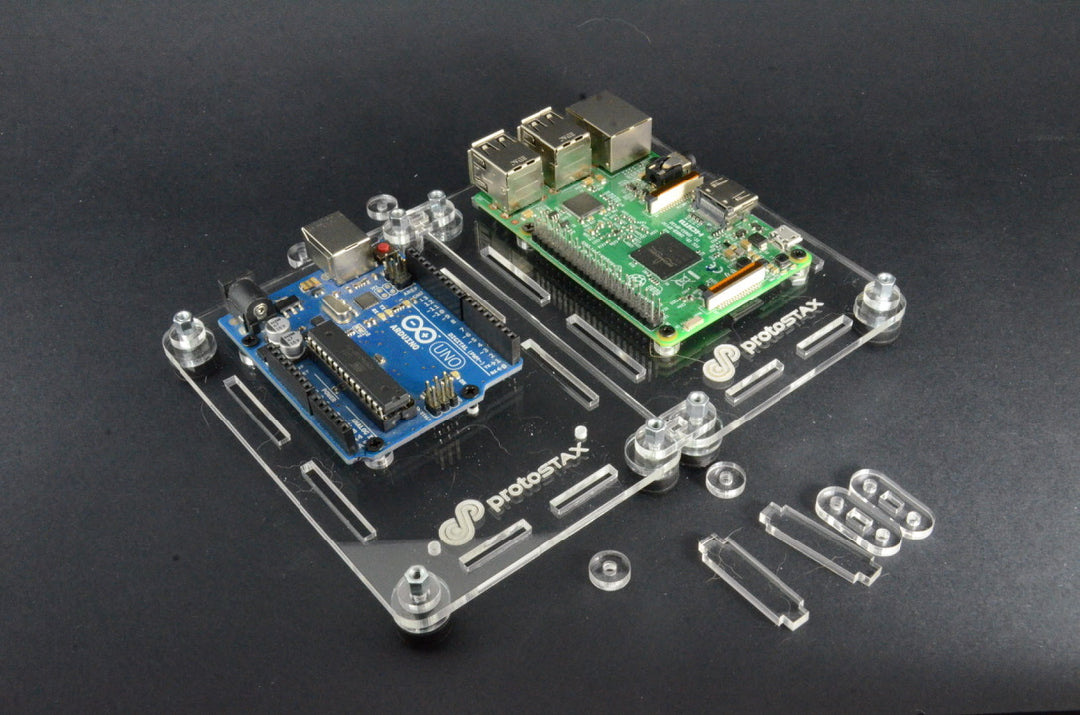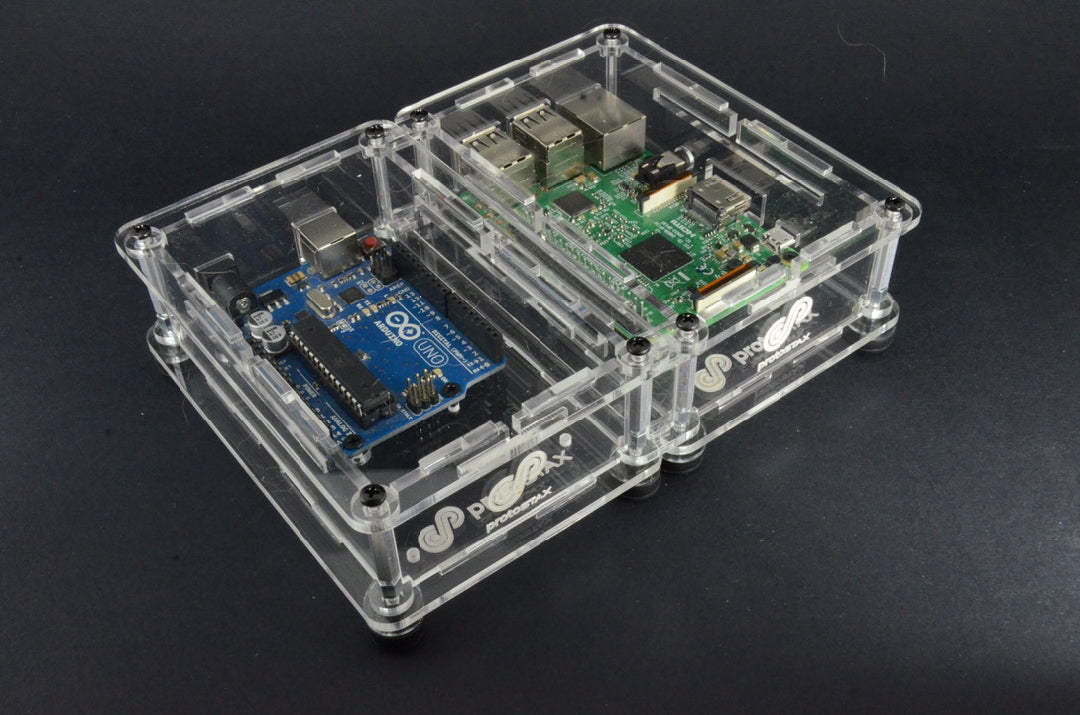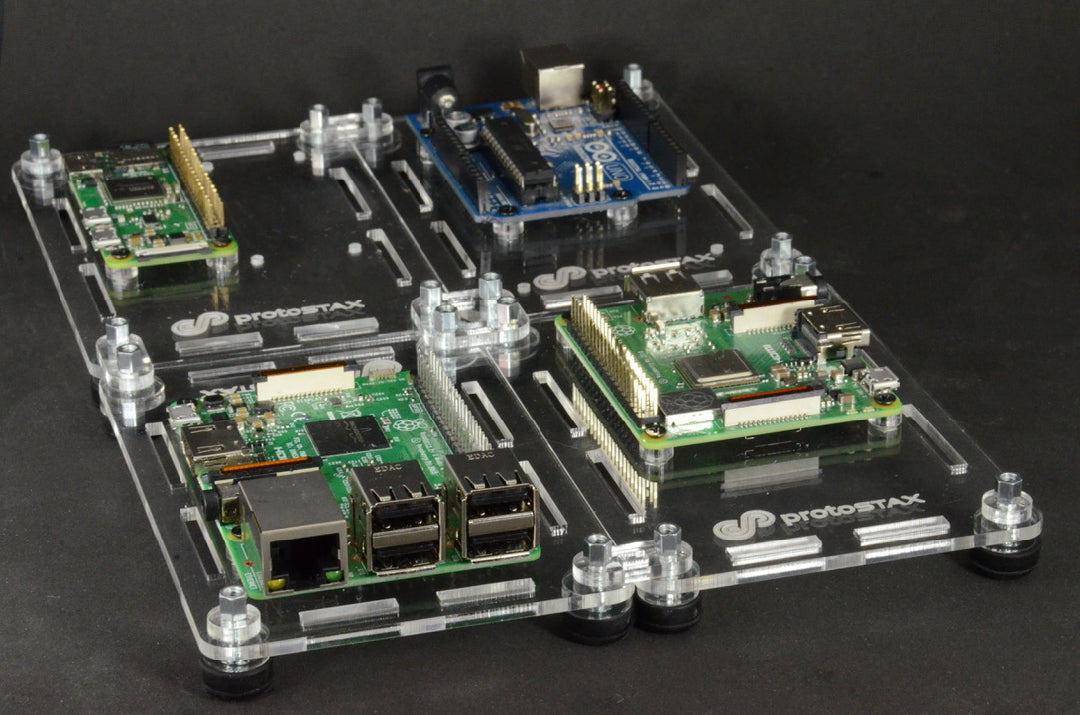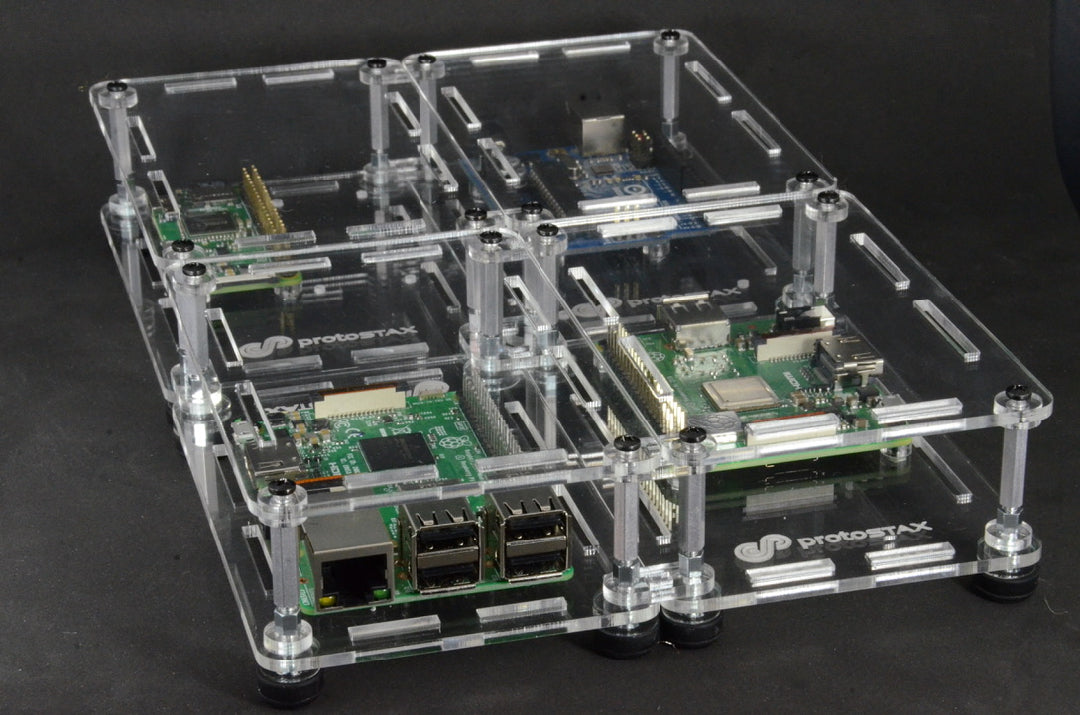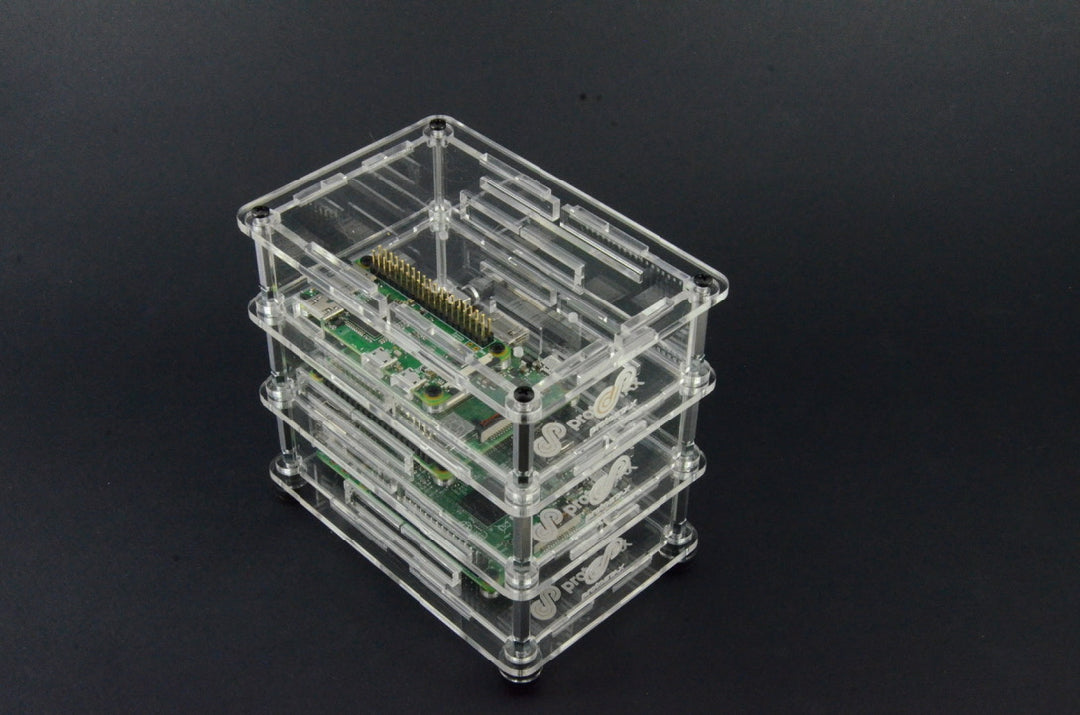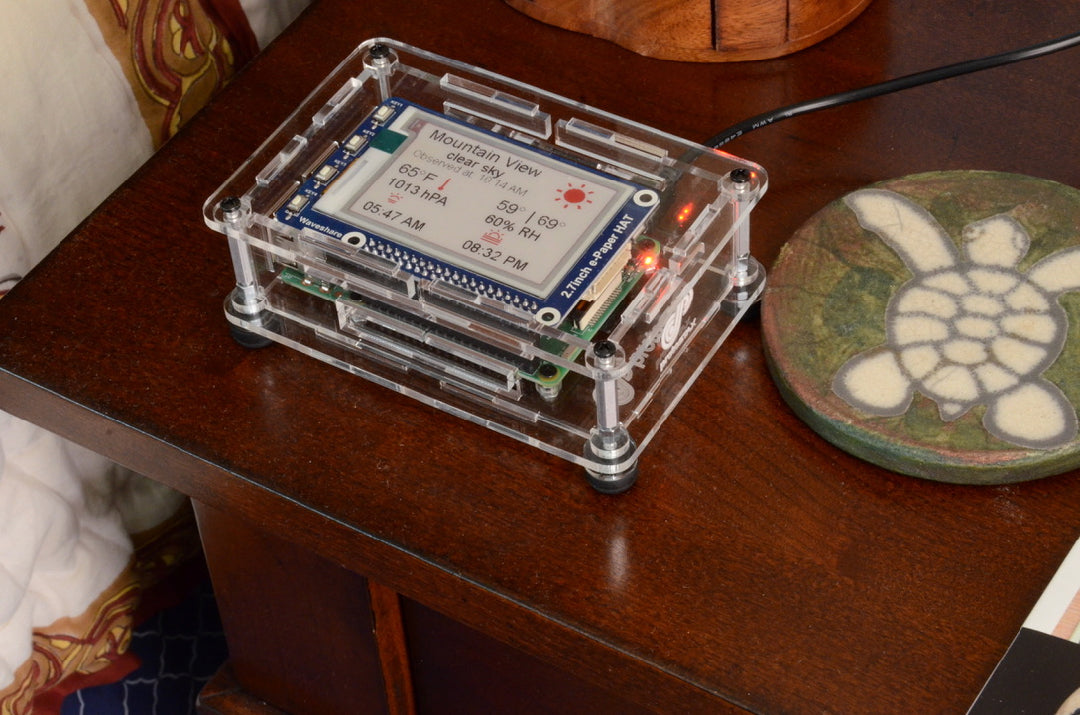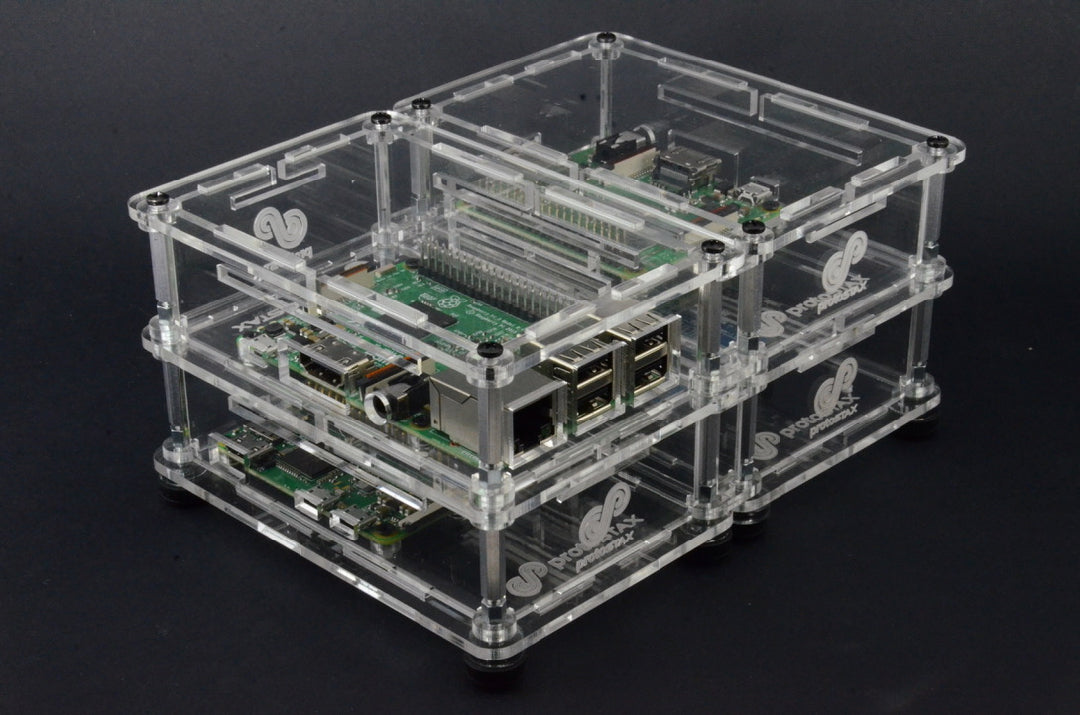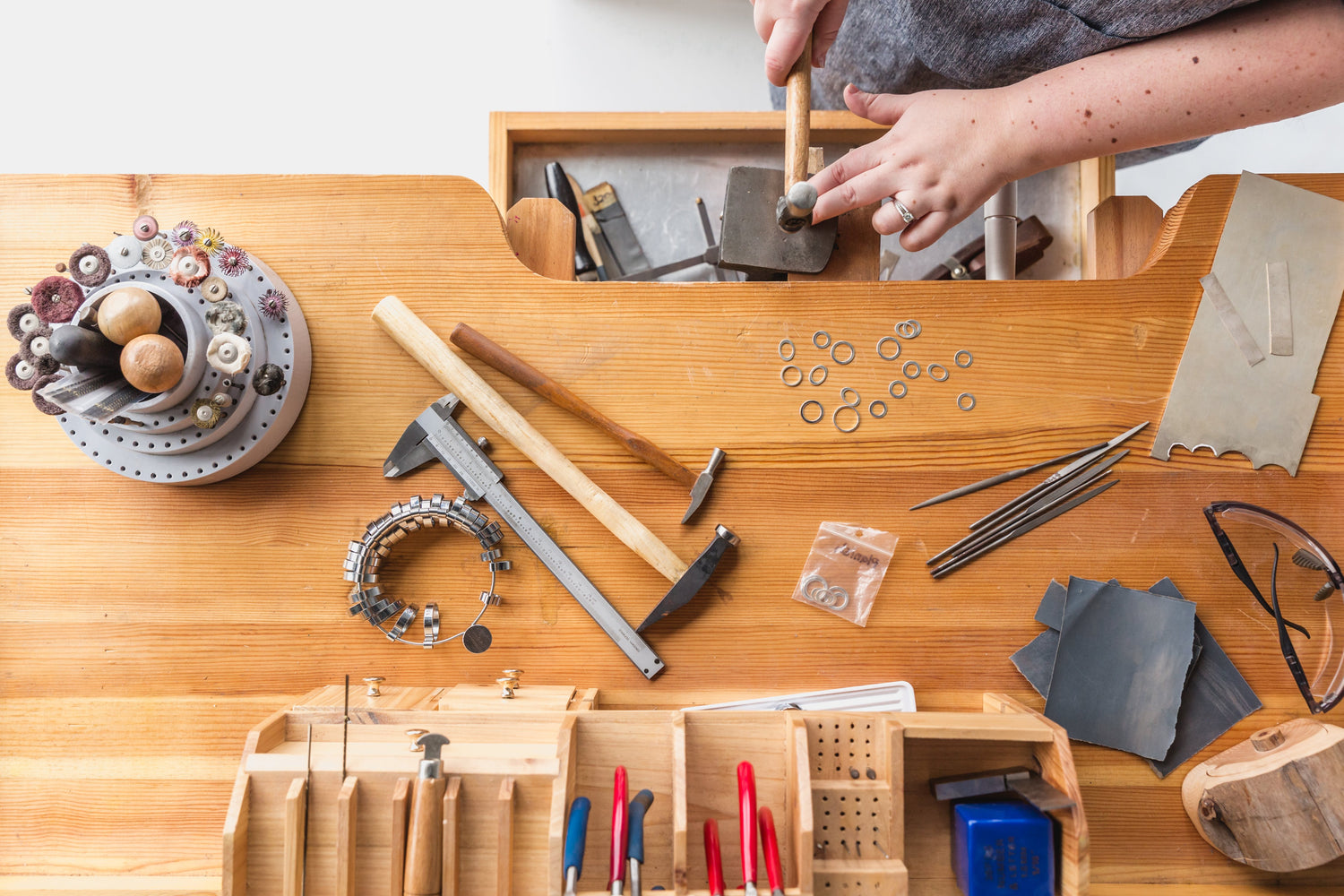 Visit Our Learning Hub
• Assembly Instructions - Video Tutorials & User Manual with step-by-step instructions.
• Sample Projects - with full instructions & code. Find inspiration for your next project.
• Tips and Tricks - Tips & tidbits on Electronics and Making to get you on your way!
Take me to the Learning Hub!
ProtoStax Enclosures are Stackable, Modular & Extensible
ProtoStax eases your path from Prototype to Product. Go from a jumble of wires and boards to an attractive product you can proudly display on your coffee table, carry around, share with friends and family, or even sell to customers! Make your prototypes useable and attractive with ProtoStax!
Modular
Use it as a prototyping plate, with full and open access to your device while prototyping. Rubber feet protect your board and your table top! 

Omit the side walls and just add the top for an open configuration with more airflow and open access. 

Add side walls and the top to form a fully enclosed case for maximum protection. 

The cases offer connectivity to external systems using our unique cable management methods (see features above)
Extensible
Extension kits and Add-Ons allow you to add functionality to your enclosure. Add a fan or two, switches, camera & tripod mount, and more! Thanks to our modular design, you can simply swap out existing pieces with new pieces that offer additional functionality like displays, switches, fans, cameras, tripod mounts are more.
Just filter by "extension kit" or "add-on" in the main shopping page to view the choices, or click below!
Check out Extension Kits
Stackable
All ProtoStax cases are compatible with each other and can be stacked side-by-side (horizontally) or one on top of the other (vertically). Mix-and-match multiple ProtoStax cases and put together a larger enclosure from the individual ones! Our Raspberry Pi + Breadboard, or Arduino + Breadboard enclosures are popular bundles, allowing to include more breadboarded circuitry while still making your prototype attractive and usable. Our stacking features and interoperability between enclosures means you can create your ultimate hybrid Raspberry Pi cluster/tower, mix-and-matching various Raspberry Pi A+, B/B+, Zero boards as you see fit!